Who is online?
In total there is 1 user online :: 0 Registered, 0 Hidden and 1 Guest
None
Most users ever online was 16 on Wed Mar 29, 2017 11:37 am
The Mists of Erebus (Roleplay)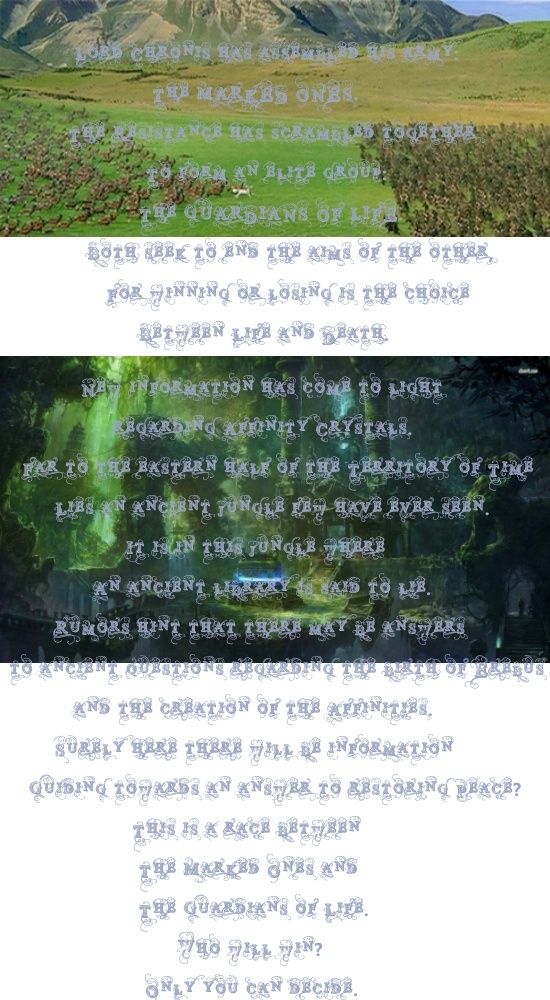 **Images are found on GOOGLE, they ARE NOT mine!**
The Time Tower is Lord Chronis' castle that lies in the center of the Territory of Time. Lord Chronis has ordered that his Marked Ones travel to the jungle in search of this supposed library and to confiscate any sensitive items and/or Resistance members that might show up in hopes of snagging the information for themselves.
The Base of the Resistance exists in a series of caves behind a waterfall in the forest of Irridan, which lies in the eastern-most border of the Territory of Time, as far from the Time Tower as possible. It is here that an argument is being held about whether to go after the supposed rumors of the ancient library -it could be a trap, after all.
Sean was in the middle of the argument the Resistance were having. Some were saying that it could be a trap, others saying it would be worth it even if it was a trap. The brown-haired teen, even though the youngest there, was arguing his point of going to the jungle where they could possibly find this library.

"Even if this is a trap, we could still be ready for it! And then we could kick some butt easily!" He said calmly, the exact opposite that the older members would think a 15 year old boy would speak. "And if it's not a trap, then win-win, right? We either kick some Marked Ones butt, or we get the information we need." His unruly hair was even more rustled than it normally was, and his glasses reflected the light from the chandelier above the meeting room.

He looked around at the others, and a few were nodding along with him. "So, what will we do?" He asked the others that didn't seem convinced, "We're just gonna sit around while there might be Marked Ones after the information, too?" He stated this as if it was already answered, and there wouldn't be more arguing.

_________________

Encounter Manager




Posts

: 80


Join date

: 2014-11-16

A blonde haired girl wandered through the dense wooded area known as the Forest of Irridan. A gentle breeze blew the leaves from the ground and kept them in the air, their light forms dancing between the tree trunks; dappled sunlight filtered through the canopy, casting it's luminous kaleidoscope upon the forest's floor. However, Mavis's amber gaze saw none of these simple wonders, for her eyelids were firmly closed. She wandered, barefoot, feeling each leaf and pine needle in the soil beneath her toes. Her arms were spread wide to either side of her, exposing the full surface area of her arms to the breeze.
Though it might seem odd at first glance, Mavis' behaviour was merely normal to her. She needed not her sight when the wind allowed her such powerful senses of touch and smell. She needed not her shoes, when her bare feet would tell her more about the environment in which she stood. She needed not sleeves to keep her warm, when the wind looked after her, warning her of nearby threats and wrapping her in it's warmth.
As Mavis moved through the forest, she used the gentle breeze that twisted through the trees to search. The wind, in it's tiny, foreign voice, had told her that somewhere within this forest lay the base of those she sought to lend a hand. With her arms outstretched, she could feel and hear more of the wind's words, describing what they could see with their vast eyes. Naught but whistles to all but her, Mavis's amber eyes slowly opened as she found what she was looking for.
Arms still outstretched, Mavis whispered in the wind's foreign tongue,
"Lend me your strength."
Following these words, Mavis dropped her outstretched arms and instead extended them forwards, palms facing up, towards the sky. Gently, the whispering winds lifted her from the forest floor, giving her the power to float through her affinity for the wind. Using these skills to her advantage, Mavis swiftly soared through the trees, nimbly dodging their trunks; the key she wore around her neck jingled occasionally as it collided with a branch or two.
Eventually, Mavis reached the body of water that she sought. She floated above the small, lapping waves, her feet nearly touching the water. With a quick glance around in order to commit the area to memory, Mavis followed the information the wind had given her and charged straight through the rushing waterfall, summoning a small shield made from the breeze to prevent the water from touching her body as she passed through.
"Shukran, Rih,"
Mavis smiled, whispering quietly and she landed on the cold stone of the cave behind the falls, no longer floating and no longer using the wind's power. This was as far as the wind had been able to go under it's own power, for within the caves there was no breeze. Only now, under Mavis' power, could the wind explore the network of caves. Their quaint little whispers lead the young female all the way to the 'centre stage' - so to speak.
Mavis hadn't been quite sure what she'd find if she explored the tunnels, but she hadn't expected to barge in on a rather heated and important looking meeting... At least she had found the right place anyway.
The blonde-haired girl had burst in on the meeting quite by accident after rounding a corner under the wind's guidance and appearing right in the room where she currently stood. Blinking, Mavis quickly closed her amber eyes and bowed in apology.
"S-sorry to intrude," she said, eyes open again. Her gaze was firmly planted on the ground in a gesture that she hoped would allow the inhabitants of the room to trust her - at least enough to hear her request out.
Wind's Tongue | Common Tongue
Translations in order of appearance;

"Thank you, Wind"
_________________
Stay strong, because things will get better.
It might be stormy now, but it can't rain forever...
-Summer Eucliffe-
Sean looked behind him to see the blonde haired girl that had suddenly joined the meeting.  He turned fully around to greet the newcomer.  "Don't be sorry, we were just about to decide on something important, but first things first."  His brown hair was in his sight, covering his ice-blue eyes from all.  "Bud!  Come here boy!  Bud here is the best lie detector I know.  He'll be able to tell if you're good or we should beat the living crap out of you!" A great big Siberian Husky came jumbling around one of the corners, his eyes both ice-blue and mocha brown. His fur was black and white, and his tail was a bit longer than normal, his build about average. He muzzle was up in the air, sniffing the air already.

Now, what's your name, miss, and what brings you here?"  He looked at her with a huge grin on his face, knowing that he could have a little fun scarring her a bit, hopefully.  Bud looked up, his black and white fur gleaming in the light, his eyes intent on the girl, ready to sense any kind of disturbance in her body.
Matthew Noir paced in front of the large table that dominated the center of the Greater Map Room. He had called for the Delta Squadron to meet him here. Lord Chronis had ordered him to take a Squadron of Marked Ones to the Eastern Jungle to investigate the claims of an Ancient Library that lay deep within the heart of said jungle.

The Greater Map Room was a rather large room for the Time Tower. The floor was inlaid with decorative marble blocks, and the walls were made of varying colors of quartz stone. The quartz made the light from the torches dance about the room strangely as it reflected off of the crystals.

But Matthew wasn't focusing on the light. He had stopped pacing and had come to a stop in front of the large table in the center of the room. Atop the table was a huge topographical map depicting the entire Land of Erebus. The map was huge, going into great detail. Holographic symbols hovered above the map, each symbol representing a different territory in Erebus. Matthew tapped on Lord Chronis' symbol, the self-same symbol that adorned his right arm.

Upon tapping the symbol, the map wiped itself clean before reforming as a larger version of the Territory of Time. Parts of the map lay shrouded in mist, where no explorer had been able to fill in details of the landscape. The Eastern Jungle was one of these places, nearly the entire jungle covered in thick mist. Matthew huffed under his breath, exasperated that no one had thought of filling in the pieces of the map that were missing.

He grumbled, looking around impatiently towards the door. Where were those lazy bastards?!?!
Moderator




Posts

: 70


Join date

: 2014-11-23


Age

: 22


Location

: Auir

Where as The Marked and Resitance were at their respective bases, Zephyr was located deep within the Jungle... Away from civilisation. To him, this place felt appropriate, no people to get in the way or to harm... Just himself and the animals of the Jungle. Naturally he was completely clueless as to the nature of events that were going to unfold here.

From his position in the jungle he awoke, he'd drifted off previously up high within the trees. He felt the breeze on his face, as he got up and looked around... From the gentle chirping of birds to the sounds of other windlife, he could hear the symphony of the life within the Jungle... it felt relaxing, but he didn't let that get to him at the moment.

Carefully climbing down from his spot up in the trees, he began glancing around, trying to relearn his surroundings... To little avail. Nothing in particular stood out amongst the many tall trees of the Jungle, it all looked the same to him... Navigating through this place could be frustrating. "Everything looks the same... Why did I decided to take a rest in a Jungle of all places... I should have just kept moving" Zephyr muttered to himself, after which he started walking, in order to try and see if he could find any kind of waypoint that would give him a Good general idea of where he was within the Jungle.
_________________
It has always been the human condition, to lust for more... It's about time that we tamed our wondering hearts, that we simplified instead of making things more complicated.

It is time that we finally found a cure for our disease, that we loosed this noose called greed from the necks of mankind.

THE RESISTANCE
The Resistance members are shocked to find a girl suddenly appearing in their midst. They are immediately hostile, many of them reaching for weapons concealed on their person. Sean is the only person to react even remotely in a friendly way, and the other members watch suspiciously as he conducts his little 'test'. They have learned, though, that Sean's dog is always right when it comes to liars, and will trust his judgement when it comes down to it.


THE MARKED ONES
Matthew's meeting is merely a debriefing of the Delta Squadron, explaining to them what their mission is and providing them with the materials and tools they will need for the mission. The packs include clothing and bedding suited for the jungle as well as nonperishable foods. Each member of the Squadron is also given a staff that helps them focus their powers, increasing their stamina and endurance when it comes to their Affinity.Matthew, as the Squadron Leader, is also equipped with a smaller version of the mapping technology, allowing him to fill in the missing parts of the map. The Delta Squadron is made of 6 members currently, not including Leader Noir himself.
_________________
~Most people seem to think that Bravery and Courage are defined as a lack of fear. But the truly wise people know -Bravery, Courage- it's being scared shitless, but going through with it anyway.~
~Records~
Current Team Stats:

» Name: Auro

» Species: Aerodactyl

» Level: 8

» Ability: Unnerve

» Moveset:

- Dragon Breath (egg)

- Supersonic (Start)

- Fire Fang (Start)

- Ice Fang (Start)

» Name: Raiden

» Species: Elekid

» Level: 6

» Ability: Static

» Moveset:

- Quick Attack (Start)

- Leer (Start)

- Thundershock (Level 5)
Lord of the Site




Posts

: 91


Join date

: 2014-11-14


Age

: 22


Location

: Equestria

Roy meanwhile had been ignoring the commotion about the girl, instead sitting in a chair somewhere in the corner, thinking about the situation. There had to be some kind of way to verify the claims of this supposed library without having to endanger any resistance forces.
"What if we don't go and check for it ourselves?", he finally spoke, having thought of a plan for himself.
"We go and hire someone who then will themselves hire a group of adventurers to go and search for that library for us. If they are successful, then they will bring their findings to the middleman who in turn will give them to us. If there's nothing there, then they simply won't bring back anything. And if something goes wrong, then no member of the resistance is endangered and it would be next to impossible to trace things back to us."
This plan was perfect. Too perfect. There had to have been something Roy had overlooked.
But if there really was a mistake, then the other members of the resistance would certainly point it out to him. It was only to hope that the more violently-inclined members wouldn't vote against it.

_________________

Encounter Manager




Posts

: 80


Join date

: 2014-11-16

Mavis had blinked at the friendly tone of one of the people sat around the table. She hadn't expected something like that at all. The approach that the rest of the group had taken, reaching for their weapons, seemed to be the more logical choice in Mavis' opinion. The boy's friendless seemed to make a little more sense when he proclaimed that the dog he had called over could tell whether or not she had good intentions. Mavis wasn't entirely sold on the idea right away, but with a little encouragement from the wind, she had prepared an answer. However, before she could speak said answer to the resistance members, one of the members sat in a corner of the room began to speak up again. From the contents of his words, Mavis assumed that he must be continuing the discussion that the group had been having before.
Confused for a moment, before that confusion developed into mild irritation, Mavis opened her mouth to speak, but no answer to Sean's questions came. Instead she looked straight to the man in the corner of the room and whispered to her constant companion.
"Dynnu,"
she whispered, the wind heeding her small command and wrapping it's breath around the leg of the man's chair and pulling it forward a few paces in order to bring him to everyone's attention.
"This man is stupid," Mavis began, her former wavering confidence suddenly gone as she felt a desire to express her frustration that the an organisation would take such risks, despite the fact that it might not be socially acceptable at that particular point in time.
"What
idiot
starts spewing ideas for a
secret
plan when someone random turns up on their doorstep. I could have been anyone. I could have come here to hurt or spy on all of you for all you knew, " she cried out in disbelief. Despite being taught English all these years she was still most accustomed to the language of the wind and so certain words were harder for her to remember in the common tongue of this land, but she still hoped that she'd gotten her point across.
"My name is Mavis
Tiflah-Rih,
and luckily for you all I came here in the hopes that I might lend a hand in your organisation," she replied with determination in her amber eyes, answering Sean's questions with clarity of voice. It was quite a drastic change from the stuttering girl that had entered the hall a few minutes ago. She only hoped that the friendlier guy's dog would be able to sense that she meant no ill will to them, as Sean had promised.
Wind's Tongue | Common Tongue
Translations in order of appearance;

Dynnu - Pull
Tiflah-Rih [tee-full-ah ree-ah] - Child Wind
_________________
Stay strong, because things will get better.
It might be stormy now, but it can't rain forever...
-Summer Eucliffe-
Sean had to agree with the girl, the man was being a bit stupid, but now was the time to find out if her last statement was the truth or not. "OK, Bud, do your thing!" He said calmly, as if the outburst had not happened. Bud walked around her, studying her movement and and heartbeat, looking and smelling for anything irregular. When the dog had found nothing, he went over to his friend, and barked loudly.

"Hmm, I see. So that's how it is." Sean said simply. "It seems that this girl, Mavis, is definitely, pause for dramatic effect, telling the truth!"

_________________